I'm not sure if I even posted about what I did for my birthday but I've got some pictures of it. Nothing overly exciting but I finally got around to resizing and uploading them.



So first on the schedule was lunch at Benihana. I had never been to one of these places and from movies and tv it looked like fun. I can still remember that scene in police academy where the commandant goes to one and gets his goldfish cooked by accident. I was a little concerned it was be pretty pricy, but they had a lunch special of sorts and it ended up only being around 10-12 bucks a person. You can't really beat that when you consider the entertainment value involved.

We ordered one of those variety lunches with a little bit of everything and others got the Seafood Diablo. A sidenote about the latter...when you say you want the dish to be 'spicy', they don't kid around. But first, there was salad for everyone.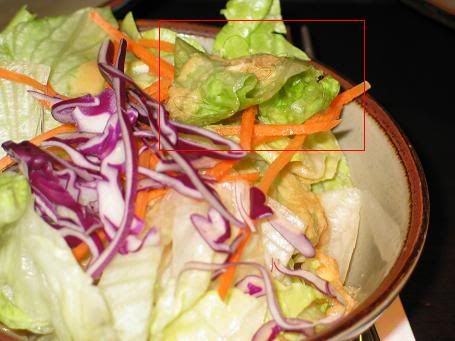 Now, the odd thing about this salad is it had an unusual ginger dressing. I usually loathe ginger and was trying to decide if I even wanted to give it a whirl at all. This meant that instead of just scarfing it down, I spent a good amount of time looking and poking at it. It ended up being a lucky thing. For those of you without supervision, I've taken the liberty of drawing a box around the area you should focus on. Still not good enough? How about a zoom then.



That's right. They gave me a gigantic hair with a salad wrapped around it. I hasten to note that this is _one_ single hair. It looked like it must've been 2 feet or more in length and ran in and out and in and out of the salad like the freaking hungry catapillar. I flagged the waitress down and she brought another but at that point, any inclination I had to experiment with consuming the salad was gone. I foisted it off on my sister and she scarfed it.




I couldn't quite figure out if finding a gigantic hair in your salad at the start of a meal was good or bad luck. I mean, it's not pleasant but at least I hadn't tried to eat the damn thing. Anyway, the chef soon came out and started to do his thing.

On a sidenote, I was happy we got an asian one. Not that asians are likely any better at this sort of flat-top grilling than anyone else, but it just fits the theme better. The table next to ours had a hispanic cooking their food and that just not right. It reminds me of the Chinese/Soul Food resturant on the south side of chicago I ran into once.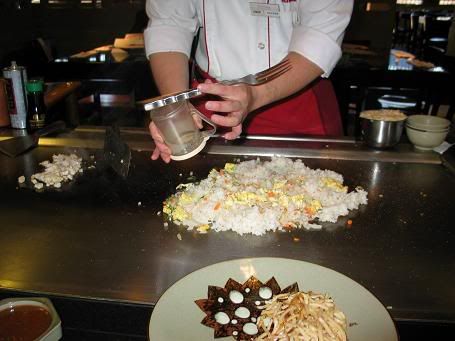 Chop chop, clang clang. Swish, tap, swish, whoosh. Look! It's fried rice with 3-4 times the effort usually required.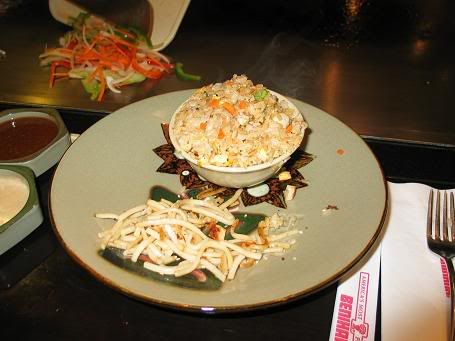 Woot. Noodles and fried rice so far. The noodles were damned good. The rice was pretty middling but it was entertaining watching him put it all together. I kept hoping for some sort of accident where he accidently flips a piece of hot meat onto a passerby's face, but notta. No fumbles.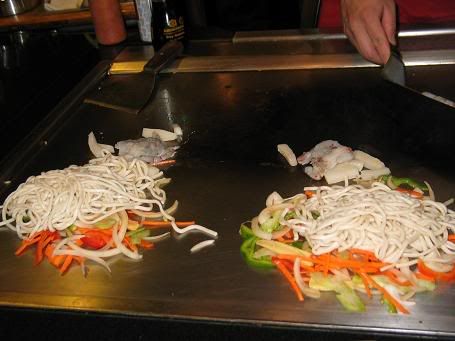 It's the seafood diablo. I have no clue what sort of hotsauce they use but it didn't seem like he squirted all that much of it on there to bring about the fiery inferno that resulted.




Onions, cucumbers and shrimp.




All cooked up and about ready to serve. In general, the food was middling but the show was worth the price of admission. I imagine it's kinda like going to mideval times. You're certainly not going there so you can eat half a chicken with your hands and slurp down soup from a can.




Er, wait...what's this? He's building a little pyramid out of an onion?




WooT! It's an onion volcano! Spiffyness. Again! Again!


Anyway, after lunch I spent most of the day just fiddling around doing nothing interesting. I went to dinner at a BBQ place where we ended up consuming large amounts of ribs and chicken, pulled pork and beef, corn bread, baked beans, and corn. Always spiffy. Then it was time for the birthday cake.




When we were kids, for every one of our birthdays until we were 10, my mom would order a number cake. That is, a cake shaped like the number of whatever age we were turning. She would then snap a plethora of pictures and I imagine that when it came time to sort them years later, the cakes always made it easy to figure out what year it was for. That tradition continues on and off and this time around my sister found a bakery that actually added the number up top as another cake layer. Not exactly what she was planning on at the time, but it ended up looking pretty nice.




I've got around a dozen pictures of me looking grim in front of this cake with various people sitting beside me and other assorted action shots. At one point, frustrated photographers said something to the effect of 'just smile, goddamnit'. This was the result.


And so that was the birthday.